Dental implants are one of the most preferred ways of improving smiles and aiding better oral aesthetics for millions of people who suffer from tooth loss, occurring due to multiple reasons. By replacing the roots of the teeth, implants act as a strong foundation on which a removable tooth structure can be mounted.
Although the procedure is surgical in nature, it can be carried out efficiently by expert dental surgeons. The implant is made with a metal substance which acts as a post on which the tooth restoration can be securely placed. The advanced dental implants are made with materials like Zirconia, whereas traditionally, titanium implants are used for the procedure. Depending on the number of teeth requiring replacement, your dentist may suggest a single implant or multiple implants such as all on 4 or all on 6 implants. Due to the nature of the procedure, the treatment cost for a complete jaw may escalate up to INR 5 lakh.
Table of Contents
What are Dental Implants?

When do you need a Dental Implant?

Types of Dental Implant Restoration

How is it done?

Why opt for dental implants?

Recovery after a Dental Implant surgery?
Take Away
What are dental implants?
Dental implants are highly advanced prosthetic replacements for roots of teeth which are missing, broken or need to be removed. A dental implant requires surgery since it is placed in the jawbone. Over a span of a few months, this artificial fixture fuses with the bone and settles firmly at its place.
Eventually, your dentist will be able to place a dental crown over such an implant, thereby reinstating the complete tooth structure from surface to root. Dental implants are highly stable. Today, most dentists make use of dental implants which are made with titanium. Using titanium implants reduces the chances of the body rejecting the implant as a foreign object.
There are two types of dental implants that have been used for a long time. These are endosteal and subperiosteal implants. Out of these, only endosteal implants are in use today, due to their reliability and durability. They are planted in the bone itself, which makes them ideal for long term stability, whereas subperiosteal implants are placed just above the jawbone, which compromises their strength.
When do you need a dental implant?
You will need a dental implant in the following scenarios:
Replacing one or more permanent teeth lost to an injury

In the event of the occurrence of gum disease

Prevalence of an underlying infection.

When you do not want to wear dentures 

When a root canal has failed on your teeth

When your teeth have undergone excessive wear and tear

Presence of congenital diseases in the teeth
Dental implants offer the comfort of improving the appearance of the teeth since they closely resemble your natural teeth. These improve speech and add confidence to your smile. As opposed to other dental treatments like dentures, you will experience better support and resilience in dental implants. Due to the strength of a dental implant, you can expect it to last for several years.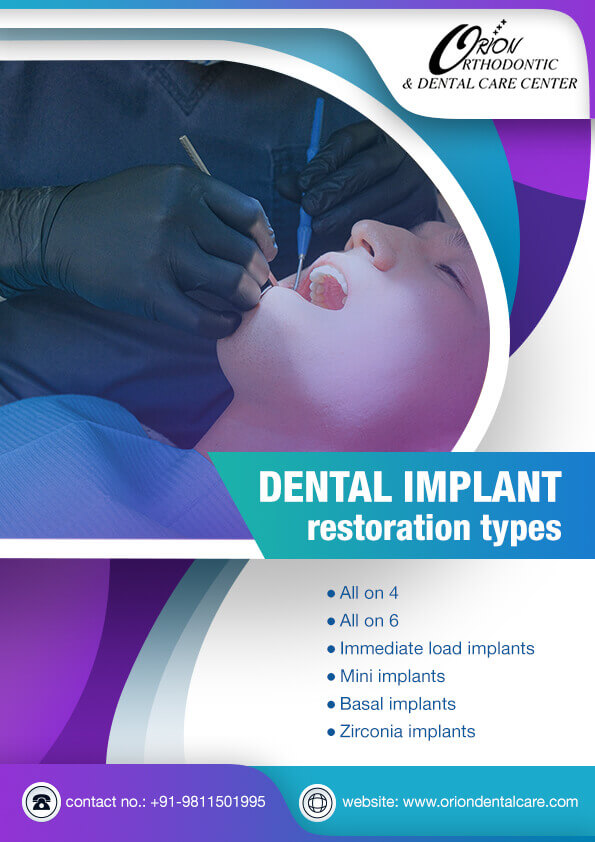 Types of dental implant restoration
There are different types of dental implants, depending upon the number of missing teeth:
Single tooth replacement

: Only one single implant is placed under the jaw and it supports one crown over it.

Multiple tooth replacements

: Depending on the number of missing teeth, your dentist can work on a dental implant which can support a bridge system as small as 3 units. Usually, up to 2 implants can support a bridge such as this one.

All teeth replacement

: For a greater number of missing teeth, anywhere between 4 to 8 dental implants could be needed to support even a complete arch of teeth on the jaw. Dentists use only the minimum number of implants required to support the teeth in such cases.

Implant-supported dentures:

This helps to protect the bone by avoiding a situation where the dentures are directly pressed on the gum.
Dentists can use different methods to restore the teeth, which are discussed below:
All on 4

: Involves the placement of 4 implants to support a complete arch (upper or lower) of teeth. The treatment can cost between INR 2 lakh and INR 3 lakh.  
All on 6

: Used when the complete set of teeth on the upper and lower jaw need to be replaced. Helps to restructure the mouth when a significant number of teeth on the jaws have been lost. The treatment cost can go up to INR 4 lakh.
Immediate load implants:

Also called same-day implants, these are ideal for those who do not want to wait. During treatment, the implants and temporary restorations are fixed by the dentist on the same day. Only at the end of the healing period, the temporary crowns are replaced by permanent crowns to complete the treatment. These will cost you between INR 40,000 to 45,000 per implant.

Mini implants:

For some patients, mini implants may be the only solution to replace missing teeth. They can be inserted without surgery within one day, and can even replace an entire arch of teeth. The cost may vary from INR 15,000 to INR 20,000 per implant.

Basal implants:

These implants draw support from the basal bone which allows swift repair of the implant so that the prosthetic tooth can be loaded within 3 days of the surgery. The cost of a full mouth basal implant can range between INR 1.5 lakh and INR 5 Lakh.
Zirconia implants:

Zirconia is a metal-free substance which is hypoallergenic in nature and does not mix with the bloodstream. Some patients may prefer these implants for this reason. The cost of a single implant can go up to INR 90000.
The cost of dental implants may vary depending on the experience of your dentist, location of the clinic, a replacement for a single tooth vs multiple teeth, materials used, quality of the bone and provision of ancillary services.
How is it done?
Before performing a dental implant procedure, your dentist will schedule an appointment with you to discuss the treatment plan. At this stage, your dentist will examine your teeth to assess their health and identify the need for any additional dental procedure. 
Once the treatment begins, the dentist will place a dental implant, which could be made with titanium or zirconia, in the bone attachment where your tooth is missing. This is a surgical procedure, which requires proper healing during the next stage of the treatment. Eventually, with the passage of time, the jawbone integrates around the metal post. This process is known as Osseointegration and secures the dental implant firmly at its place. Depending on the healing capacity of the body, it could take anywhere between 6 to 12 weeks for the process to complete.
After this, an abutment is joined securely to the implant, which will serve as the connector post to hold the new crown. In case of a single or a few replacements, a fixed crown can serve as a tooth prosthetic over the abutment. Where a complete jaw needs replacement, the dentist can prepare either fixed or removable dental structures which may depend on your choice.
To give a finishing touch to the final outcome, your dentist will ensure that your new teeth match in colour with your existing teeth. Due to the secure sealing of the dental implant within the jawbone, the new teeth function just like your natural teeth.
Why opt for dental implants?
Since dental implants are anchored within your jaw, you will be able to bite with the same force as before. This is somewhat difficult with other dental treatments.

With the loss of teeth, most people also lose bone mass. To maintain the mass, the jawbone requires stimulation, which is possible in case of dental implants.

The position of your teeth impacts the structure of your face. Dental implant treatments such as all on 4 ensure that no change occurs in your facial appearance.

A dental implant such as same-day implants feels more comfortable since you will not have to face any problem while eating food or speaking.

Dental implants are a durable treatment for your missing teeth and with good care, they may even last for a lifetime.

Visibly, dental implants provide a final outcome which is the same as your natural teeth. Thus, they maintain the natural appearance of your teeth.
Recovering from a dental implant surgery
After the treatment for dental implants is complete, your dentist will recommend a series of oral healthcare precautions for you. These include:
Regular brushing after meals

Practice flossing

Include medicines, as and when needed
You will need to assess your condition from time to time, for the occurrence of any side effects. These may be:
Swelling of gums which can last for up to 48 hours after the treatment

Bruising of skin and gums which may take a few days to heal

General discomfort and pain which can be treated with the help of medicines

Minor bleeding which will subside in less than 24 hours
Healing of the jawbone takes a few weeks' time and will be complete in less than 12 weeks. However, it may vary with the type of dental implant restoration.
To recover swiftly after a dental implant procedure, you can observe the following tips to ensure safe healing and recovery of your implants:
Practice complete oral hygiene

Take enough rest

Quit smoking

Avoid biting on hard foods and consume food items and beverages which are moderate in temperature

Apply ice packs to curb swelling
Obtain reliable and safe treatment and consultation for dental implants at Orion Dental Clinic where a team of best dental experts will take care of your teeth, and ensure that it is complete at minimum discomfort to you.
Take Away
In the ongoing COVID scenario, we are observing every safety precaution to ensure a protected environment for your dental visitation and treatment for dental implants. We follow a holistic approach to ensure that your treatment is planned and executed after complete analysis so that you do not face any roadblock during the journey to healing and boasting a healthy set of teeth. Dental implants are certainly an excellent choice of restoration for your teeth, offering a long term solution away from pain and discomfort.